CALLS TO ACTION
Call for Participants
Exploring the Climate Justice Pedagogies of Educators of Colour
Do you identify as an Ontario-based Black, Indigenous or a Person of Colour (BIPoC) climate educator working in high schools or community programs (e.g., at a farm, a garden, etc.)? Do you develop teaching approaches to support youth (ages 13-18) learning on various climate justice topics (such as food access, sustainable living, land rights, environmental racism, and more)?
You may find this study interesting and an opportunity to contribute to shaping the future of climate change education research. BIPoC voices are underrepresented in this field. Your perspectives, ideas, and knowledge matter! To participate, complete this short survey (6-8min):
High school teachers
.
Community educators
.
All participants will receive a summary of the study's findings along with a curated list of teaching and learning resources cited by BIPoC participants. For more info, please contact Preeti at preeti.nayak@mail.utoronto.ca.
We need a Canada Disability Benefit now!
Take action now and sign the petition to the Prime Minister and the federal government calling for:
– Fast-tracking the design and implementation of the Canada Disability Benefit
– Active and genuine involvement of disabled people every step of the way, from start to finish.
petitions.ourcommons.ca
EVENTS
Indigenous Disability Awareness Month!
When: Thursday November 18th, 3pm Eastern Time
We will be welcoming Christa Couture, a performing and recording artist, writer and broadcaster. Christa is proudly Indigenous (mixed Cree and Scandinavian), disabled, queer, and a mom. We will also be joined by Donovan Gates, a mostly self-taught argillite, wood, gold, and silver carver. Donovan is a registered member of the Old Massett band from Haida Gwaii islands on the west coast of British Columbia and uses his artwork to reflect his Haida heritage.
zoom.us
UNESCO World Philosophy Day
When: Thursday November 18th, 3pm
This year's UNESCO World Philosophy Day lecture speaker, Vanessa Wills, is Assistant Professor at George Washington University. Her areas of interest include moral and political philosophy (particularly Karl Marx) and philosophy of race. Her recent work includes "Revolutionary Admiration" (
The Moral Psychology of Admiration
, 2019) and "'Man is the Highest Being for Man': Marx's Radical Irreligion" (
The Blackwell Companion to Atheism and Philosophy
, 2019).
philosophy.utoronto.ca
.
#AllOutForWedzinKwa!
When: November 19th, 11:30am
Where: 155 Wellington St W
On Sunday, Cas Yikh enforced their eviction to Coastal GasLink that was originally issued January 4, 2020. Coastal GasLink was given 8 hours to evacuate the yintah, to remove all pipeline workers trespassing on their territory, before Wet'suwet'en Land Defenders and supporters blocked the road, effectively stopping all work within Cas Yikh territory!
Tkaronto – now is the time to stand in solidarity with Wet'suwet'en people as they uphold their laws!
Facebook event
Book launch: Universal Politics
When: November 19th, 12pm
Ilan Kapoor and Zahi Zalloua:
Universal Politics.
zoom.us
Extreme Inequality and Climate Breakdown
When: Friday November 19th, 6:30pm
Town hall on the twin crises of economic inequalities and climate breakdown in a time when food prices are skyrocketing while billionaires spend millions to drink champagne in space. Speakers include Seth Klein, Linda McQuaig, Bianca Mugyenyi and more.
eventbrite.ca
From Palestine – This is Cuba
When: Saturday November 20th, 12pm
Where: United Steelworkers Hall, 25 Cecil St.
The Palestinian Youth Movement – Toronto and the Cuban Residents Association invite you to join us for an educational session about Cuba.
As the imperialist attacks against the Cuban people and government continue to escalate, all those who stand against imperialism and colonialism are called to be in struggle with the Cuban people in their fight against the US blockade, and for self-determination.
eventbrite.com
Women Mobilizing for Climate, Justice, Gender, Equality and Peace
When: Sunday November 21st, 1pm
Women's report back from COP, organized by WILPF – Women's International League for Peace and Freedom.
zoom.us
Community Action to Call for Social Housing
When: Monday November 22nd, 11am
Where: 214 – 230 Sherbourne St

The housing crisis is being felt across the country by an increasing number of people. The impact of this is felt most severely by those forced into states of homelessness. In the City of Toronto, there are well over 8,700 people who are homeless, with emergency shelters full and over 1,000 people sleeping outside each night and many more forced to sleep in unsafe situations or couch surf.

The Dundas/Sherbourne area has been the epicenter of the housing and homelessness crisis in Toronto for decades. The property at 214-230 Sherbourne is one glaring example of this devastating situation but also is an example of a possible site of aid. The land and rooming house have been vacant for over a decade while hundreds of homeless people suffer outside its doorstep. It is also only a few blocks away from the site where Drina Joubert froze to death in the back of a pickup truck in 1985. In 2018, the City passed a motion to purchase or expropriate the site for social housing, yet we continue to wait for this action to be taken. We wait for housing as people continue to suffer and to die homeless.

For more information, contact Josie Ricciardi josier@regentparkchc.org 416-364-2261 ext. 2228.
People, Pandemics & Priorities: Reflections From the Front Lines
When: November 25th, 3pm
Speaker Dr. Abdu Sharkawy is an Internal Medicine & Infectious Diseases Specialist at the University Health Network and an assistant professor of medicine at the University of Toronto. After the talk, there will be a Q&A period.
eventbrite.ca
ARTICLES
Urgent Letter to Ontario MPPs Regarding the New Long-Term Care Act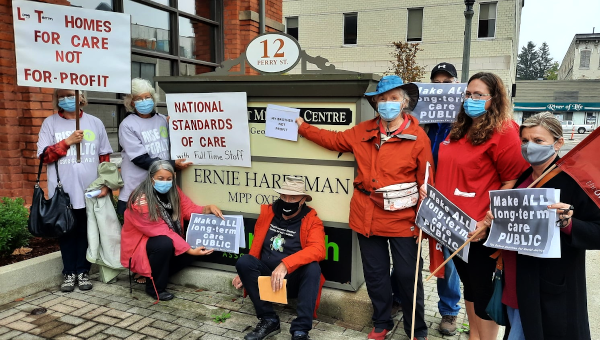 By Natalie Mehra and Ross Sutherland
Dear Members of Provincial Parliament, We are writing to request that you do not support or facilitate any plan to drive through the "new" long-term care bill with undemocratic speed. We are asking that there be full public hearings across Ontario on this legislation. Bill 37 Providing More Care, Protecting Seniors, and Building More Beds Act, 2021 is not truly a new long-term care act despite the reported statements of Minister Phillips preceding the bill's introduction. The bill does, however, contain amendments to the existing act, some of which are consequential. In addition, the bill carries with it a significant opportunity cost: a lost opportunity to make meaningful changes in the public interest.
Source:
The Bullet No. 2503
Canadian Imperialism and the Responsibility to 'Voluntour'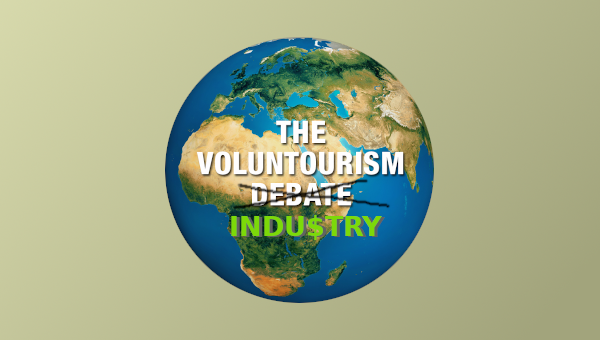 By Shreya Ghimire
As the possibility of travel returns for many of us in parts of the world like Canada where a majority of people have been vaccinated against COVID-19, and as the distribution of these life-saving vaccines exposes the stark inequalities between the Global North and South, we have an opportunity to reflect on the ethics of travel and tourism. One sector of tourism that ought to be at the forefront of such a reflection is the voluntourism industry. Following its rise to fame in the early 2000s as a way for Westerners to 'make a difference' in a globalizing world, international voluntourism has subsequently become the subject of various investigations and criticisms which ought to have discredited this so-called 'ethical tourism' model.
Source:
The Bullet No. 2504
Premature Declarations of Austerity's Death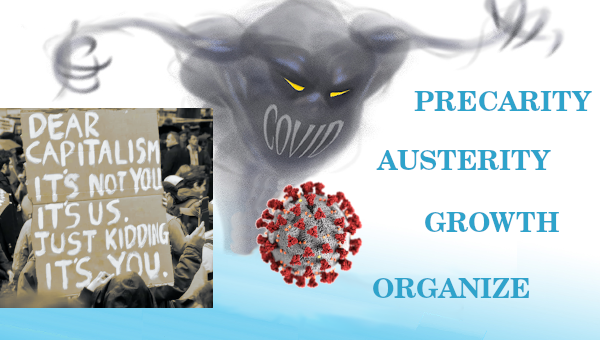 By Sam Gindin
In a recent issue of Adam King's newsletter, King interviewed Jim Stanford, perhaps Canada's best known progressive economist. The interview revolved around the apparent recent reversal of negative attitudes to government spending. Confronted by the pandemic, governments everywhere had to set the deficit orthodoxy aside. The question put to Stanford was whether this apparent reversal signals new norms in economic policy as we transition out of the crisis.
Source:
The Bullet No. 2505
US Workers in Motion: An Assessment of Labor's Gains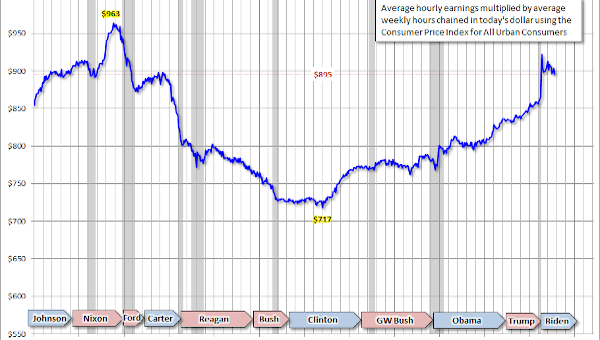 By Marty Hart-Landsberg
The news has recently highlighted labor's growing activism, publishing numerous stories about high quit rates, threatened and actual strikes, and wage gains. While these stories do capture the anger and determination of workers who have suffered through the pandemic with limited compensation for dramatically increased workloads while watching profits soar, they also paint an overly optimistic picture of the gains being made.
Source:
The Bullet No. 2506
Share: