CALLS TO ACTION
Stop Healthcare Privitization
The Ford government has passed Bill-60, which is an unlawful attack on Ontario's public healthcare.
Bill-60 allows the government to open private, for-profit hospitals, clinics and facilities, which will make wealth, rather than medical need, the determining factor for treatment.
This violates the Canada Health Act, which states that healthcare in Canada exists to "protect, promote and restore the physical and mental well-being of residents of Canada and to facilitate reasonable access to health services without financial or other barriers."
copeontario.ca
EVENTS
Rally and Strike Support
When: August 18th, 1pm
Where: Metro at 3003 Danforth Ave (Victoria Park and Danforth Ave)
Come out and support Metro grocery store workers members of Unifor Local 414, who are on strike. Join us for Solidarity Across The Food Chain picket line support. All are welcome!
Facebook poster
Tribute to Harry Belafonte
When: Friday August 18th, 7pm
Where: 290 Danforth Ave (near Chester subway)
Film:
Sometimes I Look at My Life
– documentary of Harry Belafonte in Cuba 1981.
Facebook poster
Brampton Caledon Health Coalition BBQ
When: August 19th, 1pm
Where: White Spruce Park, Brampton
Brampton Caledon Health Coalition will be hosting a barbecue/picnic lunch to show appreciation for our volunteers in Brampton and Caledon, and to get to know each other better, including any new volunteers!
We will be having lunch first, then a short meeting to vote on co-chairs, on whether Brampton and Caledon should split or remain together, and our new name! Then we will be making signs for our September 25 protest at Queen's Park to stop hospital privatization, taking videos of people's testimonials and opinions of hospital service privatization, and generally chatting and getting to know each other! There will be a tent to ensure that there is shade available, but there are also a lot of trees at the park in the area we will be in, I believe, so there should be adequate shade anyway. We will make sure there is plenty of cold water available. Please bring sunscreen and a hat!
airtable.com
Canadian Foreign Policy Hour with Yves Engler
When: Mondays at 6pm
Join author Yves Engler on Mondays for a weekly news roundup and interactive discussion about Canada's role abroad. This weekly session will delve into the latest developments on subjects ranging from military affairs and Canada's role in Ukraine to its contribution to Palestinian dispossession, and the exploitation of African resources. Join Yves for a critical take on Canada's foreign policy. Questions, comments, and criticisms are all welcome.
zoom.us
Action Against Poverty at Corner Commons
When: Every Tuesday, 5pm – 7pm
Where: Corner Commons (northwest corner of the Jane Finch Mall parking lot)

JFAAP is continuing to hold space for the Jane Finch community to support residents, expand their network, collectively respond to issues, and build on their campaign efforts. They're excited to build community with returning and new faces this season!

If you have any questions, comments, or would like to reach out about joining, you can contact them at – info@jfaap.com, or (416) 663-2733 ext. 307.
SRT Memorial and Rally
When: August 23rd, 6pm
Where: Ellesmere station
Join us at a memorial and rally for the Scarborough RT to commemorate its legacy.
We'll meet on the eastern side of Ellesmere station in the parking lot – a five-minute walk west from the Midland and Ellesmere shuttle-bus drop off. We invite you wear black and to bring candles and any art/mementos related to the RT to create a memorial.
ttcriders.ca
An Evening with Tamara Walker
When: August 25th, 4pm
Where: A Different Booklist, 779 Bathurst St
Everyone is welcome to hear Professor Tamara Walker, in conversation with Dr. Funké Aladejebi, to discuss her new book
Beyond the Shores: A History of African Americans Abroad.
In this work, part travel memoir, part historical account, Prof. Walker explores the travels of African Americans, such as Richard Wright, Florence Mills, and some of her family, who throughout history, sought to forge better lives away from the racism of America.
"
Beyond the Shores
is not just about where African Americans stayed or where they ate when they traveled but also about why they left in the first place and how they were treated once they reached their destinations. Drawing on years of research, Dr. Tamara J. Walker chronicles their experiences in atmospheric detail, taking readers from well-known capital cities to more unusual destinations like Yangiyul, Uzbekistan, and Kabondo, Kenya."
adifferentbooklist.com
ARTICLES
Oppenheimer Paradox: Power of Science and the Weakness of Scientists
By Prabir Purkayastha
The new blockbuster film on scientist Robert Oppenheimer has brought back the memories of the first nuclear bomb dropped on Hiroshima. It has raised complex questions on the nature of the society that permitted such bombs to be developed and used, and the stockpiling of nuclear arsenals that can destroy the world many times over. Did the infamous McCarthy era and hunting for reds everywhere have any relationship with the pathology of a society that suppressed its guilt over the bombings of Hiroshima and Nagasaki, substituting it instead with a belief in its exceptionalism?
Source:
The Bullet No. 2858
The Deadly Intersection of Labour Exploitation and Climate Change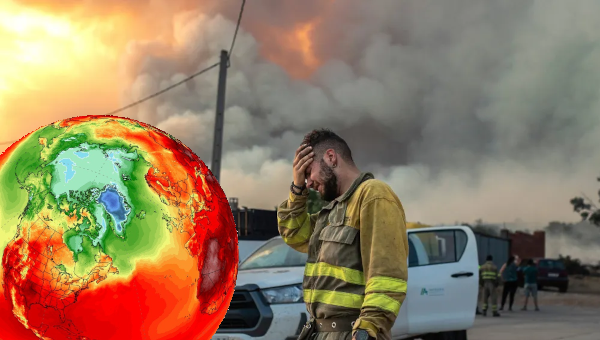 By Sonali Kolhatkar
As temperatures soar in the United States this summer, some among us are lucky enough to be able to remain in air-conditioned interior spaces, ordering food, groceries, clothing, and other products to be delivered to us. The rest, toiling in the extreme heat to pull products off hot warehouse shelves and drop them off curbside in scorching delivery trucks, are risking health and even life. July 2023 marked the planet's hottest month on record.
Source:
The Bullet No. 2859
Share: